Can Windows 11 Run Android Apps?
Can Windows 11 Run Android Apps? Read the full article:
Microsoft had previously revealed that Windows 11 would be able to run Android apps.
Customers, on the other hand, were not permitted to use this feature.
It has now launched a public beta, and here's how to get Android apps on your Windows 11 computer.
If you are a Windows user, then this might interest you.
Microsoft recently announced that the beta users can now install Android apps on Windows 11.
This is a huge step for the company as it was promised with the release of Windows 11 earlier this month.
The beta testers who have Windows PC with Intel, AMD, and Qualcomm processors can now install the Android apps directly from the Microsoft Store.
Currently, the accessibility of Android apps through the Microsoft Store is limited as very few applications are available but here's hoping that will change in future updates!
Android apps are now available for Windows 11. Here's how to install them!
Microsoft recently announced that the beta users can now install Android apps on Windows 11, and it is expected to be released in the next few weeks.
The accessibility of Android apps through the Microsoft Store is limited as very few applications are available at this time.
There is no doubt that this new feature is perhaps the most promising one in Windows 11, which has been in development for years.
This does not come as a shock since Microsoft has already released some preview versions of Windows 11, all of which make the operating system quite comparable to the aspects of Google's Android operating system.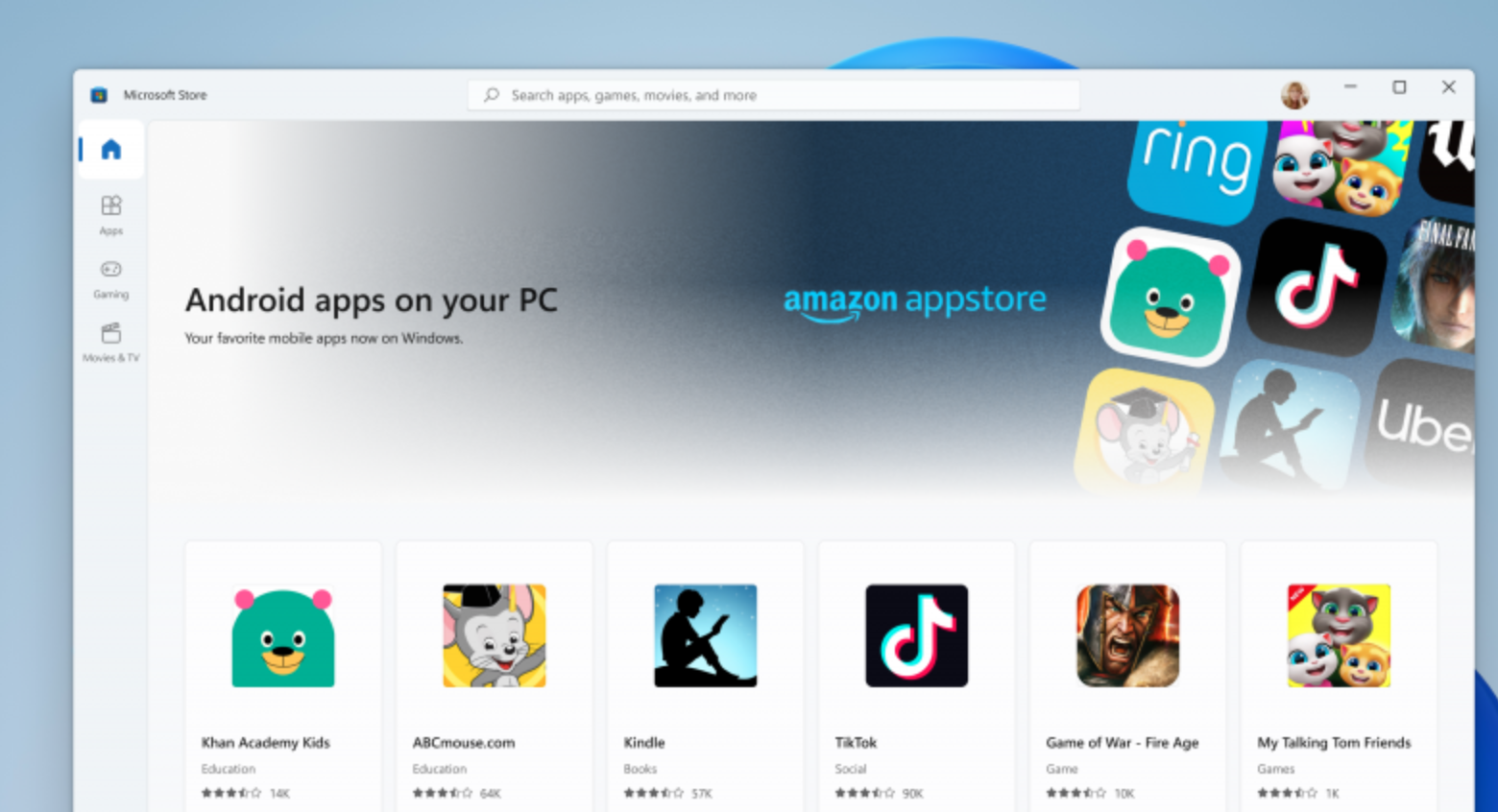 The new move is taken by Microsoft just six months after the release of Windows 10 had several smartphones fanatics perplexed.
The confusion was created because although Microsoft promised that it would also allow Android applications on tablets running on Windows 10, only Universal Apps were made available so far.
What does this mean for your Android app development?
If you are an Android developer eager to try out this new feature, you can benefit from testing your apps on Windows 11 even before it is officially available in the Google Play Store.
Not only will you have the opportunity to test the various features of the new platform, but also share experiences with other users who are interested in app development.
But this doesn't mean that Windows users can't run Android apps on their system. There are many ways through which Android apps can be installed on a Windows PC with no extra effort involved.
Some users who tested the feature reportedly commented that it worked fine, but they encountered certain problems like blank screens and non-functioning apps.
This shows that Microsoft has still not made any final touchups on this particular feature and it can be considered as a work in progress.
It is important to know about the potential benefits that you can access through this update.
The application availability is a great step forward in making a broader ecosystem that will support a multi-million customer base.
Developers will be wondering how they can get their apps to the Microsoft Store.
Here are the prerequisites for installing the Android apps.
To run Windows 11, you need a PC with a 1GHz processor or faster, at least 4GB of RAM, 64GB or more storage, and an HD display with 720p resolution and 9-inches diagonally.
Enabling virtualization of your BIOS/UEFI is possible. Here are the steps you'll need to follow to do that.
Ensure that you have 22110.1402.6.0 or higher versions of the Store application on your machine and that they are up to date. You may check for updates either through the Windows Store application or on the Microsoft website.
The computer must be in the beta program and set to the US region. Here's how you can add yourself to the beta group.
The People's Care sign-up page must be accessed from your PC and you must register as a US resident.
Microsoft has also merged it with its Store but to access it you must have an Amazon US account.
How To Install Android apps on Windows 11
On your PC, you can now open the store and search for the app you want to install.
Go to the Windows Subsystem for Android web page and click on the Get button on the right side of the page. If you have installed it before, it should have the Install/Open button instead.
Once you've installed the Windows Subsystem for Android app, the menu for it will show up in the Microsoft Store app.
Now, click the Install button in the Store app. Here, you should see an overlay menu detailing how to install this app from the Amazon Appstore.
Click through to the next page of the Amazon Appstore.
 Now, click the download button on the overlay menu.
After you finish downloading the app, tap Open Appstore.
To open your account, you will need to sign in to an existing Amazon.com account or create a new one.
After logging in, you should see a list of all the Android apps that your Windows 11 PC can run.
To install any application, you can just click Get under it and then press download.
Click on the link below and install (name of the app) on your PC and you can access it through the Start Menu or Windows Search.